The design of this aircraft wed two main characteristic usually in contrast: an advanced aerodynamics with a simple, classically constructed airframe conceived as an assembly of small components.
The first characteristic, combined with the lightness of the aircraft, allows excellent flight performance with low power and as a consequence with low fuel consumption.
The second one allows the maintenance and production process to be optimized by using small organizations scattered around the world to service a niche market with a broadly international clientele.
The T9 aerodinamic design represents the state of the art in respect to the speed flight envelope of this type of plane. The aerodynamic efficiency is shown in particular in the "tadpole" shape of the fuselage, in the adoption of Wortmann profiles, in the high aspect ratio of the horizontal surfaces and in the adoption of a horizontal, one piece, all-moving tailplane.
The STILETTO combine this advanced aerodinamics with an original architecture for the structure.
The fuselage consists of two parts: a crash resistent steel tube framework where the crew is, and a demountable tailboom carrying the empennages.
The aircraft systems are principally located in the framework area which is covered with removable panels of composite material.
For a training and club aircraft, i.e. an aircraft intensely used by a number of different pilots with different flying experience, maintenance-related costs play a predominant role.
This design approach ensures total and ready accessibility to the systems for inspection, maintenance and repair, thus calling for less time.
Demountability also facilitates storage and shipping operation.
About production process, although the T9 is designed to be produced on an industriai scale, it essentially remains, as all aircraft of this class, a hand-made product with the result that its final cost is an important function of labour charges.
Starting from such an assumption, the STILETTO design aimed at those architectural, engineering and technological solutions which proved the easiest to implement enabling easy and fast transfert of manufacturing know-how even to non-specialized and medium-low qualified workmen.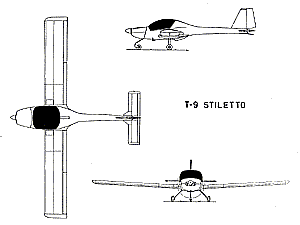 ---
TYPE
Two-seat light personal, training, club and aerial work aircraft.
WINGS
Cantilever low-wing monoplane of constant chord.
Wortmann wing section.
Two demountable half wings of all metal structure (2024 T3) with main spar, forward and rear auxiliary spars and riveted aluminium alloy skin.
All metal mass-balanced ailerons actuated by pushrods in the fuselage frame section, by cables in the wings.
All metal, manually operated, two-position trailing-edge flaps.
FUSELAGE
Consist of two part: a crash resistent steel tube framework where the crew is and a demountable tailboom of aluminium alloy structure carrying the empennages.
The framework area is covered with easily removable panels of composite material.
TAIL UNIT
Cantilever structure of aluminium alloy.
One piece all-moving tailplane, with combined anti-servo trim tab, actuated by pushrods in the fuselage frame section, by cables in the tailboom section.
Rudder actuated by cables.
LANDING GEAR
Non-retractable tricycle type.
Main-wheels carried on flat spring fiberglass cantilever legs.
Nose free pivoting and non-steerable weel carried on cantilever spring steel leg.
Hydraulically-actuated differential brake control system operated by the pedals from the cockpit.
POWER PLANT
One 80 hp Rotax Bombardier 912, with propeller reduction gear, 4 stroke engine with opposed cylinders.
Two-blade fixed-pitch wood propeller.
Fuel single tank (for the prototype installed over the floor of the baggage area instead of beneath as foreseen in the production model) capacity 80 litres (21,1 US gallons).
ACCOMODATION
Two individual adjustable seat, side by side.
Cockpit canopy hinged at rear to open upward (provision for taxiing with the canopy cracked open for hot-weather ventilation).
Baggage space aft of seats.
SYSTEM
Electrical system of 12/14 V includes an alternator as main power source and a battery.
External power socket in fuselage side for engine starting.
AVIONICS
A large instrument panel allows the installation of nav/com, ADF, trasponder and GPS.
---
DIMENSIONS, EXTERNAL
Wing span
Length overall
10,26 (m)
6,85 (m)
AREAS
Wings, gross
12,31 (sq.m)
WEIGHTS AND LOADINGS
Weigth empty
380 (Kg)
Max T-O and landing weight
650 (kg)
Useful load
270 (kg)
G limit
4,4 (.)
PERFORMANCE
Max cruising speed at S/L
200+ (km/h)
Rate of climb, sea level (IAS 120/125 Km/h)
4+ (m/s)
Range, 170 Km/h, sea level, 30 min. rsv
740 (km)
Stall, flaps up, MTOW
80 (Km/h)
Stall, flaps down, MTOW
74 (Km/h)
Service ceiling
4200 (m)
Demonstrated crosswind
15 (kts)
Takeoff ground roll
100 (m)
Takeoff over 15 m (50 ft) obstacle
190 (m)
Landing over 15 m (50 ft) obstacle
(normal braking)
175 (m)